ADAE complete dental clinic chairside system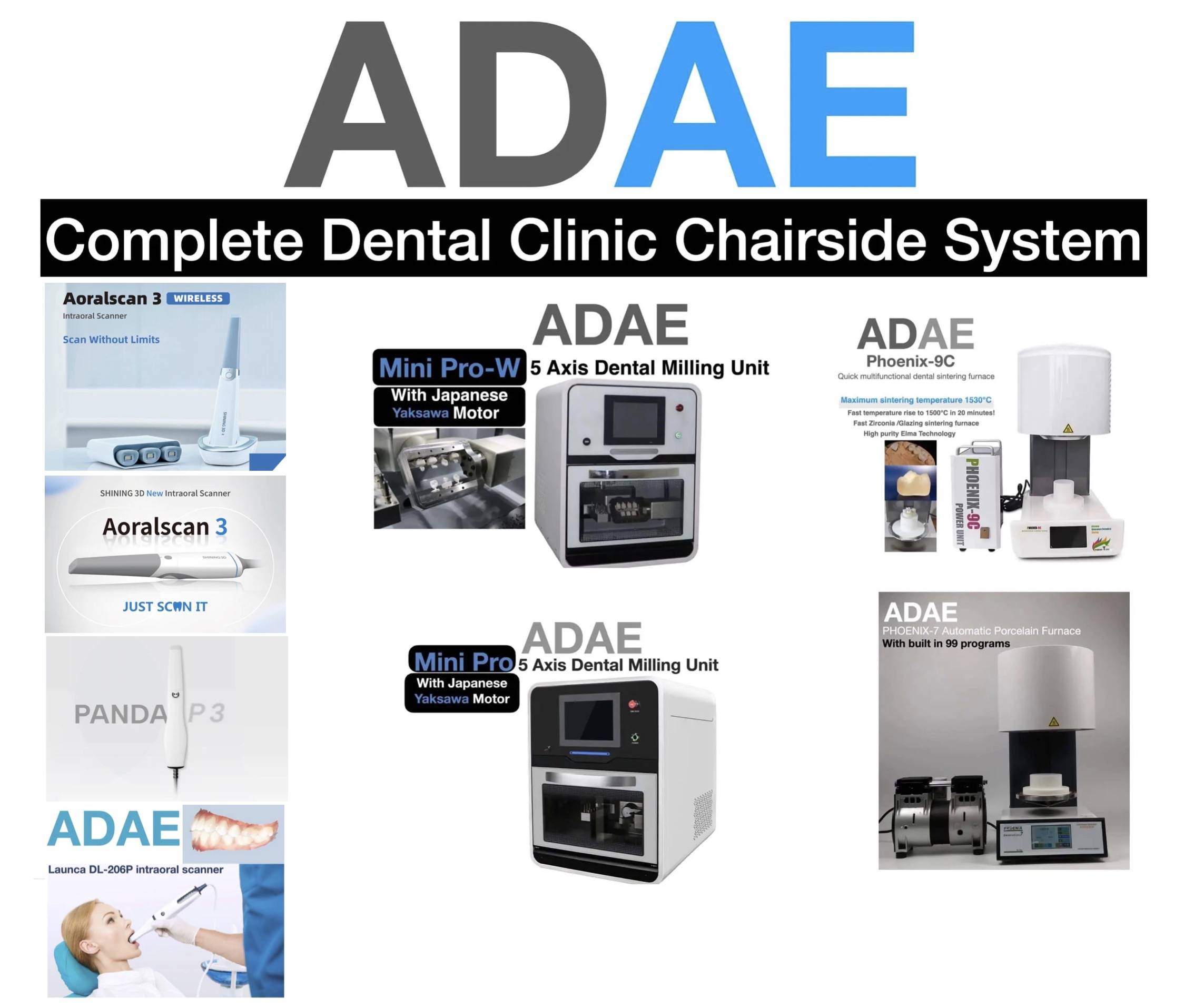 Why Dental Clinic Chairside system?
-Time Savings: The principal and best-known advantage of chairside CAD/CAM is that it saves both doctor and patient time by delivering the final restoration in a single day. No second appointments, no provisional to make or to re-cement. In fact, the technology allows clinicians to work on and deliver multiple single-tooth restorations in one visit. In addition, by training assistants to scan the arches and bite, and to handle other tasks, the doctor can be available to see other patients and perform other procedures, thereby maximizing his or her time. Staining is an art form. Some doctors use the lab for anterior restorations initially until they build their comfort level. But once they're accustomed to staining, they find that having an in-office unit gives them the ability to modify the restoration shade without having to send the product back to the lab, saving both time and expense.
-No Physical Impressions: CAD/CAM technology doesn't require physical impressions, which creates several advantages. For one, it removes the risk of impression shrinkage, leading to fewer adjustments and less chair time. In addition, it eliminates the need for repeat impressions. If there's a void in the image, you can rescan the selected area or the whole tooth depending on what's needed. Creating only digital impressions enables you to archive patients' impressions for as long as desired without the need for a physical space to store casts. Digital impressions also eliminate the need for purchasing impression trays and materials, as well as the cost of shipping impressions to the lab. A related benefit: reduced environmental footprint.
-Better Patient Comfort: Many patients are uncomfortable with the impression process, which can cause discomfort, gagging and stress. Removing this step can mean higher office and doctor ratings online. Over the years, the intraoral scanner has become smaller and faster, eliminating the need for patients to keep their mouths open for long periods—something that originally was an issue.
For patients with cognitive impairment or physical challenges, many dentists find it very helpful to have the ability to deliver the prosthesis on the same day. With regard to treatment acceptance, scans allow doctors to show patients the final product, which improves satisfaction.
-Multiple Use: Chairside CAD/CAM enables doctors to fabricate crowns, bridges, veneers, inlays and onlays, and implant surgical guides. Some scanners, such as iTero, provide the ability to make night guards and clear aligners in-house. Alternatively, digital impressions can be remitted to a lab for those products.
-Fun Factor. Many doctors who do digital dentistry truly enjoy the process. They find that learning to use this technology and integrating it into their practices increases their professional satisfaction.
-Improved Quality: Those who use a CAD/CAM system also argue that it improves care. Because the camera magnifies the prepped tooth, dentists can adjust and improve the form and margins immediately.
-Competitive Advantage: In some communities, providing digital dentistry services might give you a strategic advantage. When deciding whether to invest in this technology, consider what your competitors are doing and whether patients have been asking you about "same day dentistry" or "teeth in a day."
Dental Clinic Chairside Price Inquiry Form
Please fill in the form below and our sales department will reach to you within 48 hours with price and details.