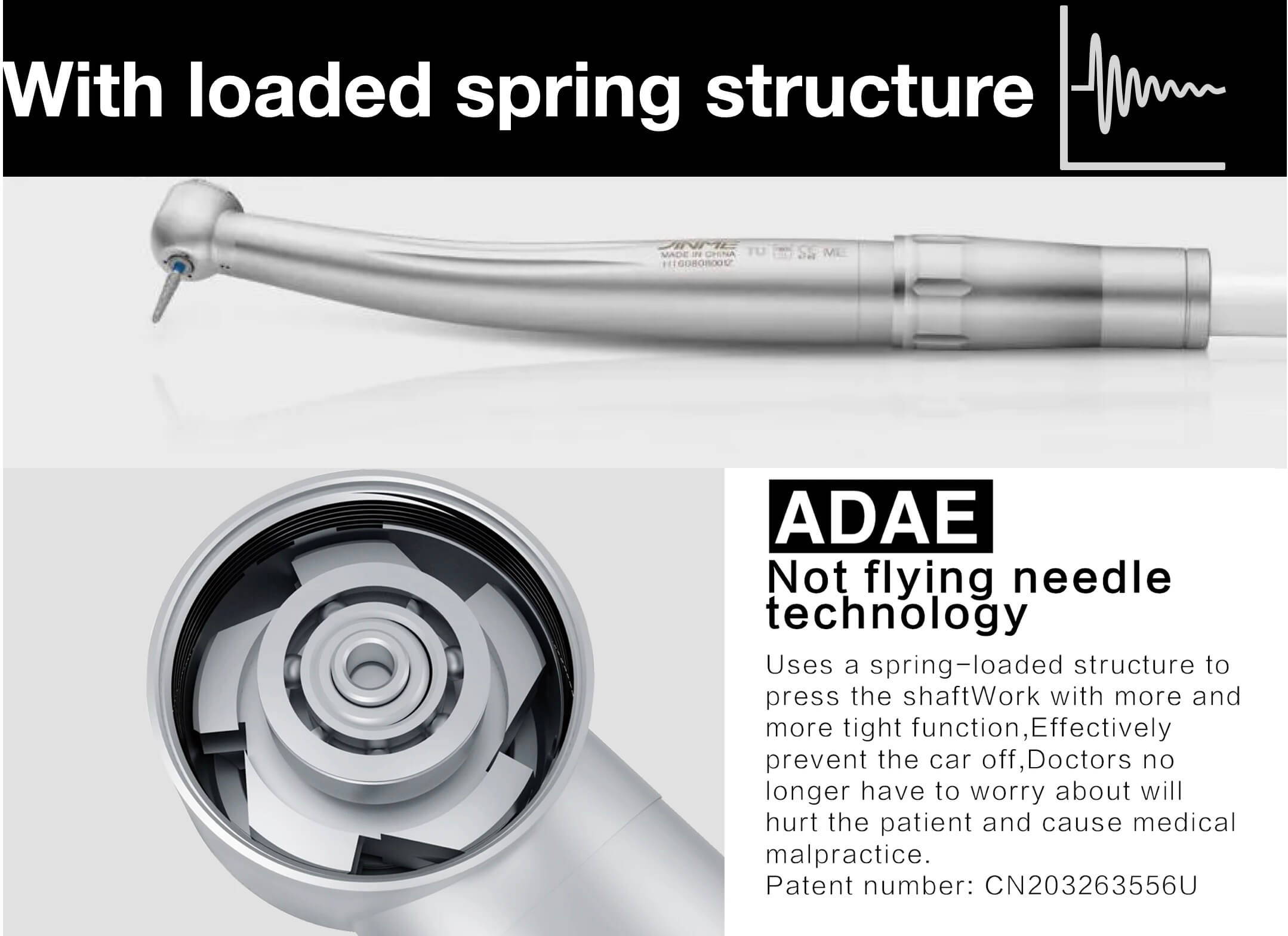 ---
ADAE ME-TU dental turbine
---
[widgetic-facebook-like id=5a9bcc69ecb2a1d47b8b4569 autoscale=on width=431 height=62 resize=fill-width]
---
◆Ceramic bearing, noise≤65dB.
◆Clean head (Anti-retraction system).
◆Cartridge is compatible with PANAMAX.
Features of ME-TU dental handpiece
A push-button bur changing mode is used to replace the gripping type mode, which makes bur mounting and detaching quicker and more convenient, saving time for the users.
The use of an anti-suction system can prevent the suction of blood, virus and skin particles caused by the negative pressure produced when handpiece stops operating, so that cross infection can be avoided. This can also better protect the dental cartridge to avoid the damage of foreign matter to bearing, largely improving the service life of handpiece.
The ME-TU dental handpiece uses ADAE's independently researched and developed auto-chuck push button spindle. A precise miniature spring is equipped inside the spindle and with the high speed rotating of the handpiece, it exerts a pre-tightening force on the chuck to ensure the bur is tight and secure to the handpiece. (Patent number: CN203263556U)
Users can choose 2-hole or 4-hole handpieces according to personal using habit or based on the joint types, thus offering more versatile options. The ME-SU dental handpiece can meet the requirements for connecting with other handpiece pipes on different dental comprehensive treatment machines.
---
---
---
I bought a pair of these Hand-peics and both still work fine
It's a reliable handpiece and de best value for money
This high speed dental handpiece is really worth the money spent on it! It does the job the same as my old handpiece which was much more expensive!
Good high speed hand piece
Everything fine! Recommend!