Digital Alginate Mixer AD01

Introduction

This Alginate mixer is used for making false teeth, it replaces the handwork of mixing the Impression Material. It has characteristics of labor-saving, fast, well mix and less bubble. This new type with a high-end food control, you can adjust the speed by your foot. And it also with big LCD screen to show working time, speed, and vivid image. It's more convenient, and humor to operate.
The product has obtained national patent, the patent No.: 200720106521.0 and It has CE Certificate。
Technical Data:
1.  Power supply: AC220V,50Hz;or AC 110V,60HZ.
2.  Speed: According to your needs ranging from 0 to 300 rpm, speed controlled by the foot control.
3.  Timing alarm: set the working time 20 seconds, after 20 seconds warning lamp flashes, beeps, remind the user to use the impression material as soon as possible, avoid drying or coagulating.
4.  Overload shutdown: when the force caused the motor overload, it will automatically stop rotating after 3 seconds, then press the start button, start again.
5.  Gross weight: 3.0 Kg.
6.  Using the latest footswitch control is similar to automobile accelerator.
Packing List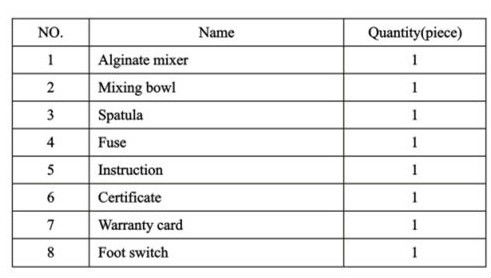 WHY AD01 Alginate mixer?
A.Economical price
B. Convenient operation-you can adjust the proportion of water or impression material during operation
C. Four types can meet different customers' demand
D. Our Alginate Mixer brings the story of tortoise and hare race into operation, making it vividly, and humorously.
Warranty 
One year 
received
I use it and it is so convenient and save time