Watch the video below for the details and the quality of the X ray image with regular dental film

---
Upgraded ADAE portable X-ray machine
---
[widgetic-facebook-like id=5a9bcc69ecb2a1d47b8b4569 autoscale=on width=431 height=62 resize=fill-width]
---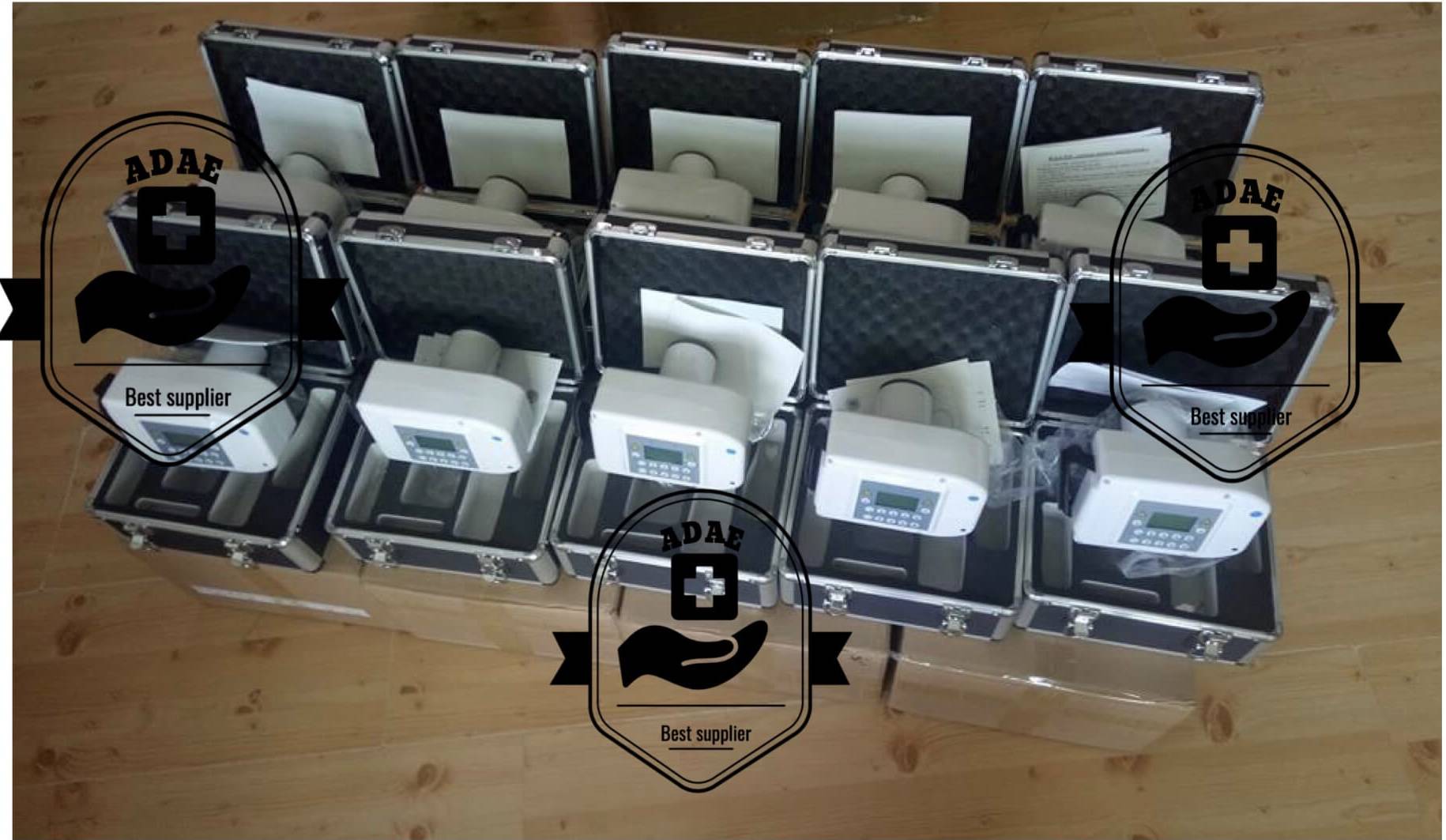 ---
Watch the video below for the details and the quality of the X ray image with sensor

---
1-Complete upgraded mainboard.
2-New smart ADAE cooling system. 
3-Upgrdaed battery.
Our portable X ray radiation is : 0.0025 gmy/h which is 10 times less than the conventional X ray machine.
Can be used with all brands of dental X-ray sensors as well as all the dental regular X-ray films.
Dental portable x-ray unit, small and light weight.
Durable built- in battery for maximum stable performance.
excellent image quality.
ADAE portable X ray unit uses high frequency and DC international power supply.
The main body of ADAE portable X ray is small and light weight.
Tube voltage: 60KV.
Tube current: 1mA.
Exposure time: 0.1--2.0s.
Frequency:  30KHz
Rate power: 60VA.
Distance from the skin to cone: 130mm.
Tube focus: 0.3mm*0.3mm.
Battery: DC14.8V  6400mAh.
Charger input voltage: AC100V-240V±10%.
Output voltage: DC16.8V.
Ambient temperature: 5℃~40℃.
Relative temperature: <75%RH.
Net weight: 2.5KG.
Size(mm): 138*165*185.
Mian portable X-ray machine 1 pc.
Charger 1pc.

Premium a

luminum protective box 1pc.
User manual 1pc.
this XRAY device is light, easy to hold and produces pretty good XRAY images, so it adds convenience to our dental clinic. The battery also can hold its charge for such a long time. it is worth for 5 starts I gave to it.
Makes good images and gives an easy set for anterior and posterior shots.
X-ray image taken by this portable unit is so clear and the unit is light weight and comfortable to hold. I have taken many X-ray shots and battery still fully charged.
amazed with it
Arrived 2 days ago and I am very happy with it .
I received the xray equipment today, so I am wondering if I can use it with Kodak X ray sensor ?
Hello DR.Jwad!
Yes SURE, You can use our ADAE portable X-Ray machine with any X ray sensor brand, and also you can use it with any regular dental X ray film.
Let us know if you have any other questions.
Take Care,
ADAE Team