Why dental 3D printing is becoming more popular in dentistry?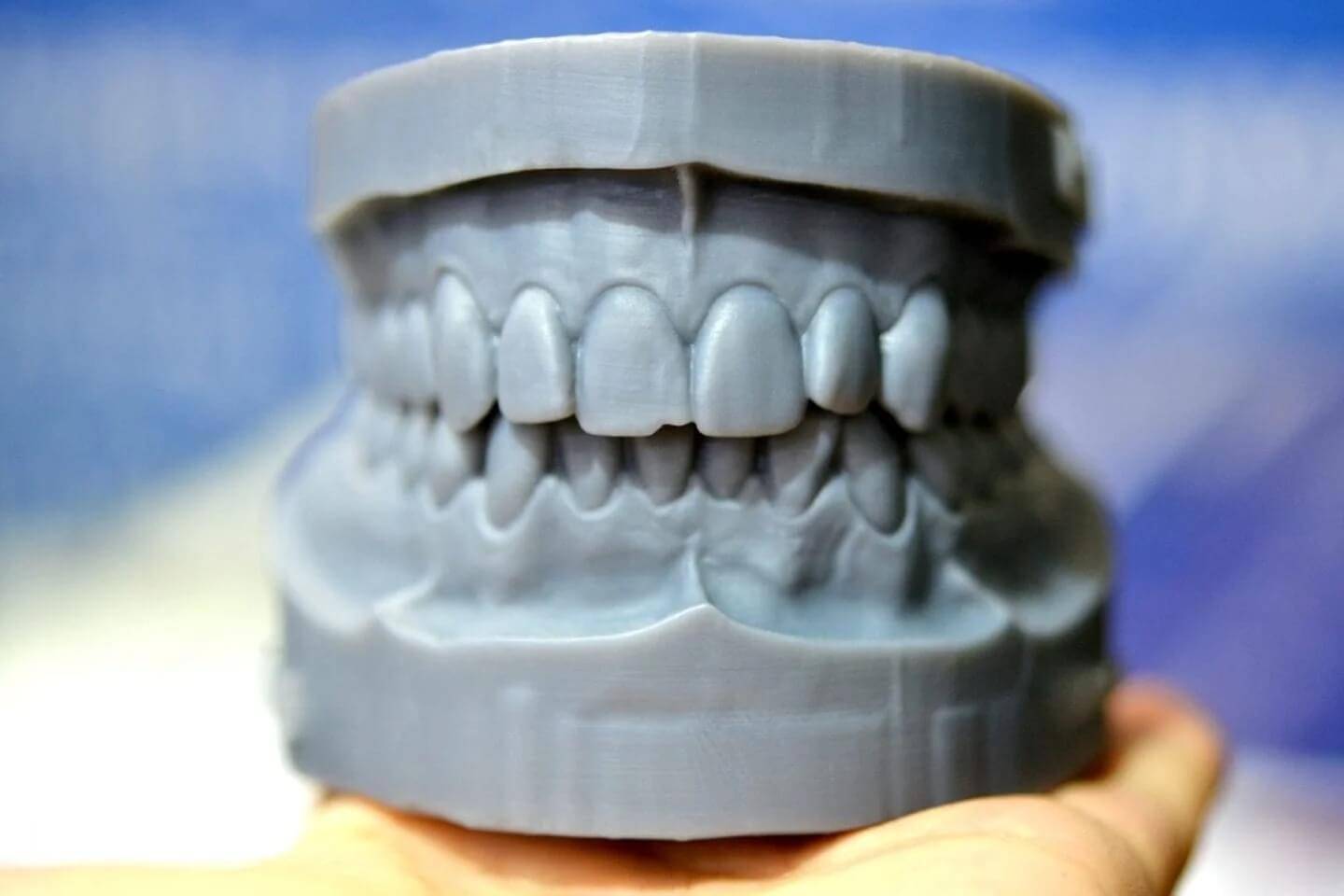 There are two very important areas of dentistry which are largely influenced by 3D printing and comparing those areas will provide us a good level of knowledge to work on.  
1. Dental Impression:
Traditionally-
Before the name 3D printing hit dentistry, dental impressions were carried out by asking a patient to bite on a rubber-like substance called alginate, and a negative mould was created of the patient's mouth. Later, this negative mould was filled with plaster-like substance and a positive model of the patient's teeth were created.  
Doing things this way came with its complications. Firstly, the mould was not able to capture the minute details of the mouth, and if the mould had some errors, the process needed to be repeated, making it inconvenient to both the orthodontist as well as the patient. Secondly, it took a lot of time and burnt a hole in the patient's pockets.
With 3D Printing-
3D printing helps orthodontists, as well as patients, avoid all these pains. An intraoral wand is used to create a 3D image of the patient's mouth in no time and due to its precision, the errors are negligible almost every time, saving the time, effort, and money of the patient as well as of the orthodontist. Later the image is used to print the required object, be it a tooth, crown, bridge, or any other thing.
2. Manufacturing:
Traditionally-
Manufacturing before 3D printing used to be composed of injection moulding and subtractive manufacturing. Injection moulding was used to do mass production of products of the same measurement, such as dental devices and sensors. It is not useful in creating a one-of-a-kind object. And subtractive manufacturing is the name given to the process of creating objects out of a solid block of material, by cutting it. This process leads to a large amount of wastage.  
With 3D Printing-
3D printing has been able to address the concerns arising from both of these methods. It is highly effective in not only mass production of objects but also can manufacture a one-of-a-kind dental product. And as it is an additive manufacturing process (manufactures by adding one layer on top of the other), there is no need to worry about any wastage.
These differences are just the tip of an iceberg when it comes to dental 3D printing and its positive effects on dentistry. Let us delve deeper into what makes it such an irreplaceable aspect of the dental industry now.
Dental 3D Printing – Benefits
Dentists use 3D printing to accomplish tasks such as creating an orthodontic model, printing surgical tools, producing restorative dental implants such as crowns, bridges, dentures etc and lastly, they use 3D printing to repair or remove damaged teeth with the help of CAD (Computer Aided Design) software. In accomplishing these tasks, 3D printing has assisted dentists with benefits like never before.
3D dental printers save the most important resource (time). 3D Printing has made it possible to get intraoral models in a matter of minutes and with extreme precision, with just a wave of a wand, literally! (Intraoral wand, obviously).
Applications of 3D dental printers in dentistry
Crowns and Bridges
Dental crowns and bridges are some of the most common dental treatments as they are used to replace missing teeth. They are similar in many ways but the essential difference between the two is that dental crowns are used to cap a damaged or decaying tooth, placing it on top of the damage. They can also cap dental implants in the case of there being no tooth left. Meanwhile, bridges are used to replace missing teeth, consisting of two crowns (one on either end) and then a bridge of dentures as needed. And of course, 3D printing is increasingly playing a role in dentistry. Temporary, highly accurate, aesthetic 3D printed crowns and bridges can be made using resin 3D printing. The technology is becoming increasingly popular because it allows for more cost-effective and faster production than the traditional milling processes. Though currently, 3D printed crowns and bridges are mostly temporary as the dental resins are not as durable as zirconia, the technology is continually advancing making it likely that this will change in the near future.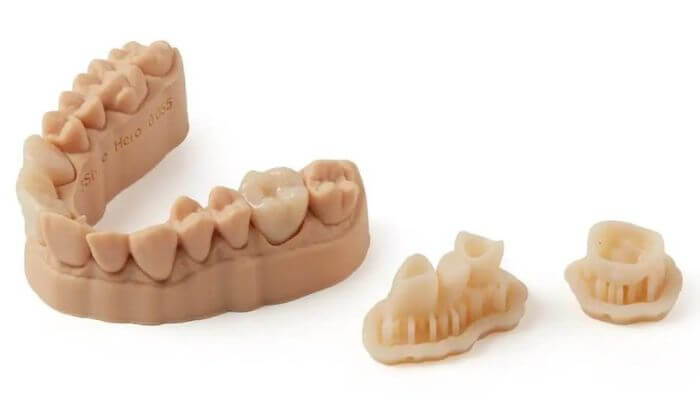 Aligners and Retainers
More and more dental devices are being produced by additive manufacturing, but it has not only allowed a greater manufacturing speed but also greater customization, a very important aspect in this sector as each mouth is different. Now we will talk about retainers or "aligners," devices used to prevent or even move patients' teeth.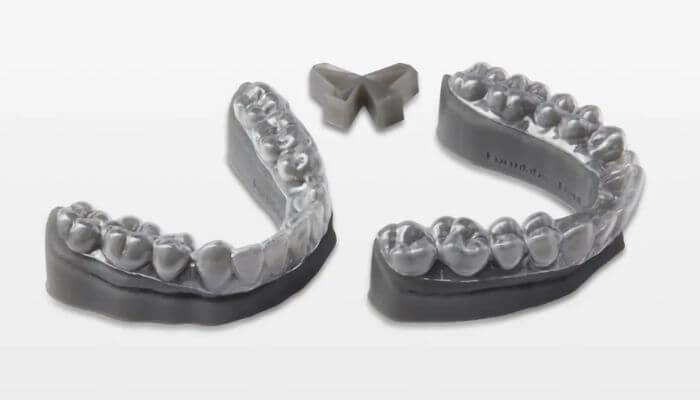 Implants
Whenever we lose a tooth, this requires quick help through an implant, because otherwise the area around the missing tooth degrades due to insufficient stress. With the help of additive manufacturing, implants in the dental field can not only be produced on-demand and therefore faster, but also individualized. This is particularly important in dental healthcare, as each person's mouth and smile is individual to them. With the precise manufacturing method of 3D printing for dental implant surgery, patients are not limited in any way in terms of their bite ability or chewing function, for example. In addition, 3D printing is also considered to be a more economical method that is constantly being improved through innovation and makes the production of dental implants much easier.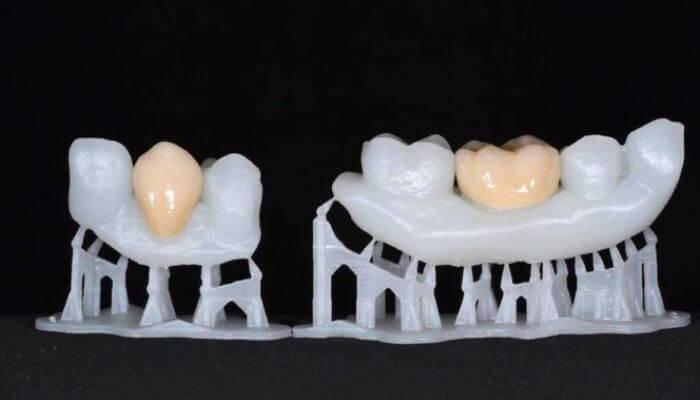 Surgical Guides
One use of 3D printing particularly valuable for dentistry of these is the surgical guide for dental implants. This is one of the latest advances and has revolutionized surgical processes even beyond dentistry. For as long as dental implants have existed, it has been very difficult for dentists to place them in the right places. Due to the inconvenient angles and the inability to see clearly, placement has been difficult for many dental professionals. As a result, many implants have been misplaced, which can lead to oral health complications. This is where surgical guides have come in to address these issues. Specifically, the guide helps dentists place dental implants correctly and in the right place. It is a single-use device designed to be placed directly on a patient's teeth, and features a hole that allows an implant to be positioned in the right place, at the right angle and depth. This method offers more precision, about three times more than hand placement.
Anatomical Replicas and Models
Anatomical models are 3D representations of a part of the body, based on scans: for dentistry, these are of the jaw or the mouth. Models are used for planning and discussing surgical procedures, both between patient-clinician and clinician-clinician. They provide a detailed image of the area of interest and can reduce the risk of operating errors as the dentist has a tangible anatomical structure to work from. But where does 3D printing come into dentistry? While traditionally a plaster model can be made onto which crowns and dentures can be placed, this is a slow, manual process and involves a wait time for the model to be ready. 3D printing can be used to produce the models, based on intra-oral scans, in a fast and efficient manner as it is built layer by layer by the printer. Depending on the use of the model, different types of additive manufacturing are used. For basic models, FDM can be used with filament, but for more complex replicas SLA is used to produce resin models. While the use of traditional plaster-based methods is still common, 3D printing is becoming relatively popular for this purpose.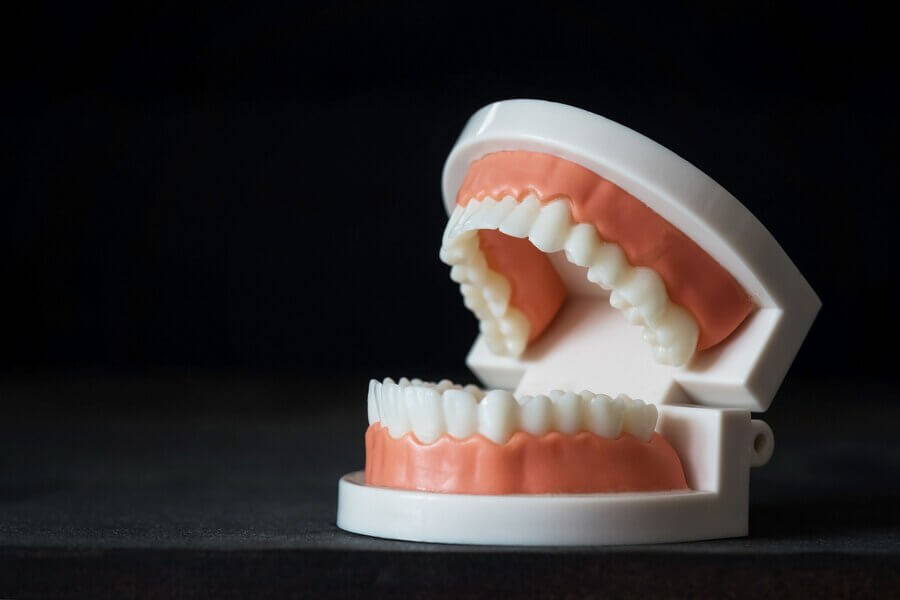 Dentures
The use of 3D printing to produce dentures is an emerging technology which has potential to streamline the process. While the traditional method of milling from a resin base is labor-intensive and involves several trips to the dentist, 3D printing could produce dentures in a quicker and less expensive way. While the method is not currently perfect, limited by aesthetics and low-resolution printers, there have been a number of positive indications: recently, new materials for denture production have been given the CE mark (that is, marked safe for purpose in the EEA) and patient studies have suggested that dentures are acceptable to the user. Some companies such as Formlabs already offer custom denture solutions; their website suggests cost savings of over half compared to completely milled teeth. The socio-economic impacts of additive manufacturing solutions are particularly intriguing, as we could see in the future the application of 3D printing to make dentures more available to those who need them the most.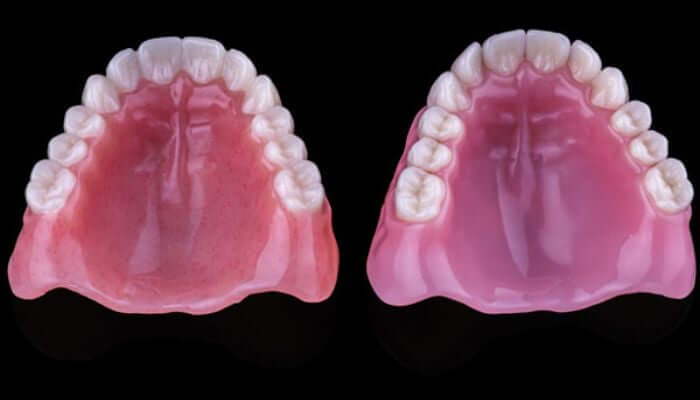 Casting Patterns
3D printing can also be used for indirect dental processes. Although 3D printing is clearly being used to make end-use parts for dentistry including crowns and bridges, copings and substructures and more, it also has a role to play in making the castings. Dental casting patterns are accurate, three-dimensional replicas of a patient's teeth and can be used not just to study the mouth but also to create crowns, fixed bridges and dentures. Anyone who has had orthodontic work or been to the dentist has had the experience of biting down into the uncomfortable wax to create this perfect mold. However, with 3D scanning and printing, the process is streamlined, with a highly accurate mold created by printing, washing and then removing unwanted supports, burnout, etc giving a final product.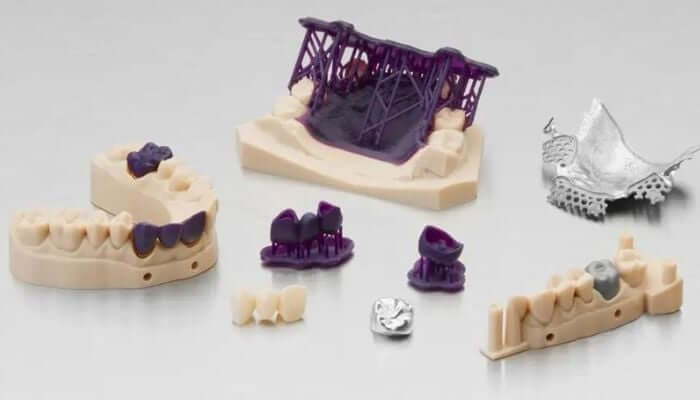 ---